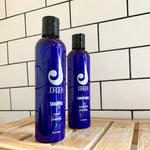 Do you experience either itchy skin or an itchy scalp? Or both?
Jorgen Renew is great for relieving itchy scalp and skin. Renew is a scalp cleaner formulated with allantoin, camphor, clove, eucalyptus, peppermint and witch hazel which are medicinal and renewing agents - all are healing agents which help aid in scalp restoration. 
Jorgen Renew provides a clean, oil free surface that promotes long-lasting adhesion and keeps your scalp feeling fresh between shampoos.
It's easy to apply to an itchy scalp. Simply place the liquid in either a spray bottle or a nozzle tipped bottle and apply. May be used multiple times daily as needed.